The highest-ever certification for a building of this type anywhere in the world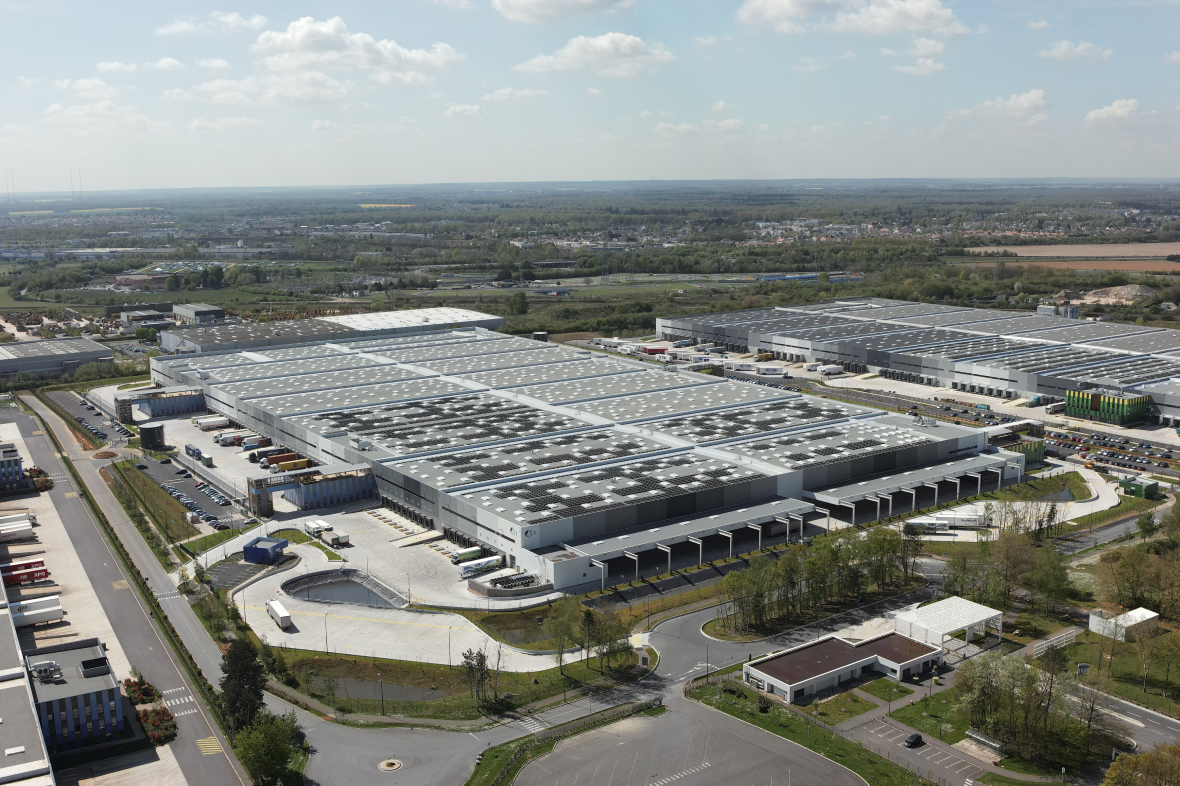 Paris, June 1, 2022 - Prologis, the global leader in logistics real estate, has been awarded BREEAM (Building Research Establishment Environmental Assessment Method) "Outstanding" certification, with a record score of 93.1%, for its 100,000 sqm eco-sustainable warehouse Moissy 2DC1. This is the highest level certification ever attained by a building in France or by a logistics building anywhere in the world.
Created by the Building Research Establishment (BRE), BREEAM ratings assess environmental performance based on pragmatic criteria. In scoring an exceptional 93.1%, Moissy 2DC1 becomes the world's first logistics warehouse to get this level of certification, making it one of the world's top 10 ranked buildings across all types.
The certification recognises the exemplary sustainable construction practices used at Moissy 2DC1 by Prologis in collaboration with engineers IDEC.
This was a super-scale project developed on an industrial brownfield site. Prologis wanted to showcase its vision and its commitments to innovation and corporate social responsibility. Prologis's contribution focused mainly on optimising and reducing energy consumption, installing digital tools to control inputs and using decarbonised energy and bio-sourced materials. Respect for the environment guided the whole design of the building from the start, with the implementation of a low-environmental-impact building site that saved 40,000 tonnes of CO2 emissions during construction and 110,000 tonnes over the full life cycle of the building.  
Users are also invited to sign up to this environmental commitment, for instance by using the many recharging points for electric vehicles across the site. 
An eco-construction model offering innovative sustainable solutions
This was a major effort that notably included using materials that were bio-sourced, recycled or, in the case of materials like concrete, re-used after demolition, but also involved installing a 100% rainwater infiltration system.
Energy use was optimised to minimise consumption. The building is wholly and solely heated by geothermal energy. The system stores thermal energy in the soil and distributes it from season to season using thermal heat pumps, managed by an AI app.
36,000 sqm of roof space is covered with photovoltaic panels, capable of generating an estimated 1.5GWh of electricity a year.
Environment conducive to worker well-being
Bioclimatic design principles are also applied inside the building to create a pleasant working environment for its users. A ventilation system with sensors that measure VOC in real time was installed, improving air quality. Sound pollution was cut by using extra-insulating materials in the most important parts of the building. Besides saving energy, dimmable LED lighting with movement detectors improves the visual comfort and well-being of employees. Well-maintained green spaces, such as those on the mezzanine floor, were also designed and planted to improve the overall impact of the building.
A biodiverse site
Special attention was paid to the preservation of biodiversity on the site, which is home to a multitude of flora, including aromatic plants. To sustain the existing ecosystem, nesting boxes for kestrels and other birds and potential homes for hedgehogs and insects were installed across the park.  There are also bee-hives, which provide a useful source of environmental data when the pollen collected locally by the resident bees is analysed. The results can help guide "corrective" action to preserve and develop local flora where needed.
"This latest certification confirms that Moissy 2DC1 is a flagship project that meets the most demanding environmental and social standards. We plan to build on this recognition of sustainable excellence for the site by seeking three other certifications:  the "BiodiverCity® label, WELL Silver certification and  Zero Carbon" certification by the International Living Future Institute (ILFI). The Group undertakes to continue its initiatives on energy efficiency,  carbon neutrality and environmental innovation in all its projects." said Cécile Tricault, Regional Head, Prologis Southern Europe.
More about Moissy 2DC1:
https://www.prologis.fr/moissy-2-dc1
More about Prologis's sustainable development initiatives:
https://www.prologis.fr/developpement-expertise/développement-durable
About Prologis
Prologis, Inc. is the global leader in logistics real estate with a focus on high-barrier, high-growth markets. As of March 31, 2022, the company owned, on a wholly owned basis or through co-investment ventures, properties and development projects expected to total approximately 1,000 million square feet (93 million square meters) in 19 countries.  Prologis leases modern logistics facilities to a diverse base of approximately 5,800 customers principally across two major categories: business-to-business and retail/online fulfilment.